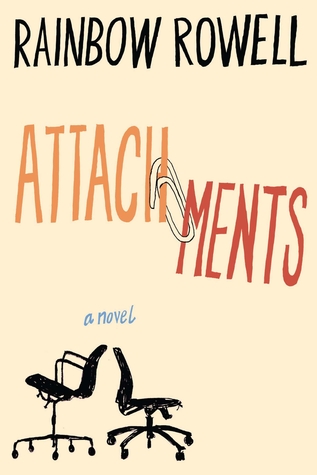 Book: Attachments
Author: Rainbow Rowell
Started: July 12
Finished: July 14
Format: Hardcover
Synopsis: "Hi, I'm the guy who reads your e-mail, and also, I love you . . . "
Beth Fremont and Jennifer Scribner-Snyder know that somebody is monitoring their work e-mail. (Everybody in the newsroom knows. It's company policy.) But they can't quite bring themselves to take it seriously. They go on sending each other endless and endlessly hilarious e-mails, discussing every aspect of their personal lives. Meanwhile, Lincoln O'Neill can't believe this is his job now- reading other people's e-mail. When he applied to be "internet security officer," he pictured himself building firewalls and crushing hackers- not writing up a report every time a sports reporter forwards a dirty joke. When Lincoln comes across Beth's and Jennifer's messages, he knows he should turn them in. But he can't help being entertained-and captivated-by their stories. By the time Lincoln realizes he's falling for Beth, it's way too late to introduce himself. What would he say . . . ?
This is my first Rainbow Rowell novel and it will not be my last. Of course, I do know that she usually writes young adult and this is more adult fiction, but it was very good.
The plot of this book was different than any book I've read. Basically, man gets a job as a security dude and has to read emails. Man reads emails from woman. Man finds out he loves woman through her emails.
I know, I know. I thought it sounded creepy at first but then I realized that it's sort of like online dating but only one person knows about it. It was an interesting way for them to "meet" and the more I read the less it was creepy.
The book was set in 1999 through 2000 so the internet and email were fairly new things. It's funny reading books where people don't know about the internet or cell phones. Poor, poor people.
The characters were so three dimensional. Beth, Lincoln, and even Jennifer were characters that had many different characteristics. They were all easy to relate to and likable. 
Like I said, the plot was really good as well. I didn't know how a romance would work if they don't meet face-to-face for a while, but it just worked with this book. Not only was the romance cute, but it was a funny book. Lincoln was a fun character. Lincoln was a real character. The plot worked so well because the characters and reading worked well.
The writing was refreshing. Since this is my first Rainbow Rowell novel, I can't tell if her writing is always like this, but I do know that it's great in this book. I would definitely read it again.
I'm excited to read her other books and meet more of her awesome characters.